Agricultural Products
Chikusei is a place where the gifts of the land and the warmth of the farmers bear the fruit of nature.
Tsukubano, surrounded by vast flat land and pure water, is a source of fresh ingredients.
Leading Rice Producing Area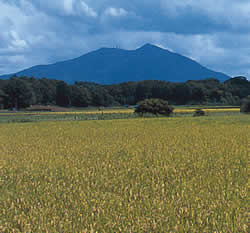 Chikusei, with its vast flat land and first-grade rivers, is blessed with fertile land and pure water, and has become a leading rice-producing district in Ibaraki.
 Both in product quality and delivery, Chikusei is rated as top-class in Ibaraki.
 Koshihikari is the main variety planted.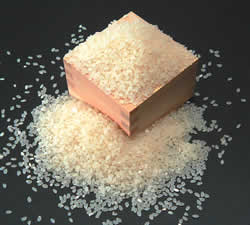 Snacks and sweets made from rice, and fermented foods such as miso and shoyu are produced using age-old inherited methods. These products are becoming increasingly popular for their natural orientation.
 In the urban area of Shimodate, there are many long-established sweet shops loved by literati. The area prospered as a commercial district and cultural center.









Hitachi Aki Soba (Fresh autumn soba)
 Hitachi Aki Soba blooms in summer and is harvested in autumn.
 The characteristics of Hitachi Aki Soba are its excellent taste, flavor and sweetness, and needless to say, the amount of production.
 Simply ground or hand-made fresh soba is available either for eat-in or take-out at Agri shops (agricultural products shop) in the city.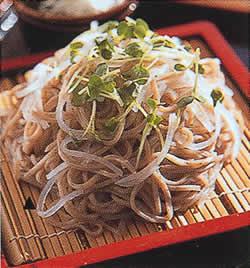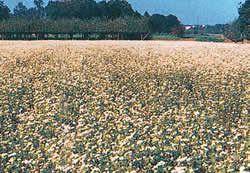 Pears of Sekijo Town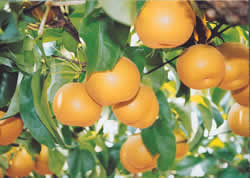 The Sekijo district, in the southwest area of Chikusei, is famous as the oldest pear-growing district in Japan, and ranks as one of largest planting areas for Aka-nashi (red pear) in Japan.
 The pears are grown using traditional techniques with fewer agrichemicals, and harvested pears are laid out for strict grading of the fruit. Due to such efforts, the pears from Chikusei are beautiful and the district is designated as the brand production area for Ibaraki pears.
 The popular brands "Kousui" and "Housui" and the main brand "Niitaka" are harvested from summer through autumn.


Beni-Kodama Watermelon of Kyowa Town
 You can fit an entire small Kodama watermelon in the refrigerator without cutting it.
 The Kyowa district in particular is famous as a Kodama watermelon growing district, and is designated as a brand producing area.
Tomato,Strawberry,Cucumber
Tomato

Strawberry

Cucumber

Tomatoes are well-known as a nutritious vegetable.
The "Momotaro" variety produced here is popular for its beautiful appearance, large size and high sugar content.

Cropped from December through May.
Strawberries are a popular fruit with their rich sweetness and refreshing tangy taste, and they contain twice as much Vitamin C as do lemons.

Nice shape and crisp, juicy texture
Ones cropped from winter through spring are designated as a brand agricultural product, and bear a hallmark of good taste and high quality.