Shimodate Gion-Matsuri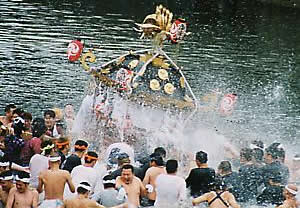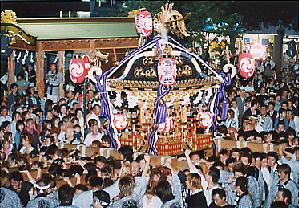 Oh-Mikoshi are carried on the shoulders of men perspiring from exertion; the Hime-Mikoshi is carried by young women. Gion-Matsuri is the biggest event of the summer in Shimodate, and the atmosphere and energy are overwhelming.

 Two huge Oh-Mikoshi, 30 Kodomo-Mikoshi for children and a glamorous Hime-Mikoshi for women are proudly carried through the city.
 On the final day, the Oh-Mikoshi that was carried all night is brought to the Gongyou River for a purification ritual. The Mikoshi is later taken back to the shrine where it will sleep until summer returns.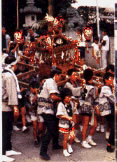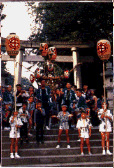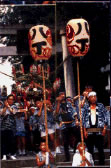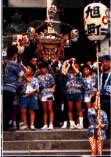 The Gion-Matsuri Festival, with its valiant mikoshi processions starting from the Haguro Shrine in Ohmachi, is held every year at the end of July.

 Three mikoshi are preserved in the Haguro Shrine: "Meiji-Mikoshi", which was created to celebrate Japan's victory in the Japanese-Shino War of 1895, weighs about one ton.

 "Heisei-Mikoshi", newly crafted in 1992, is the biggest among the mikoshi carried in Japan and weighs two tons.
 "Hime-Mikoshi" is loved by many female fans.
 A total of 30 Kodomo-Mikoshi are carried by children wearing the happi uniform of each district.
 During the Gion-Matsuri, the town is enveloped in an atmosphere of excitement and fascination.