Location and geographical features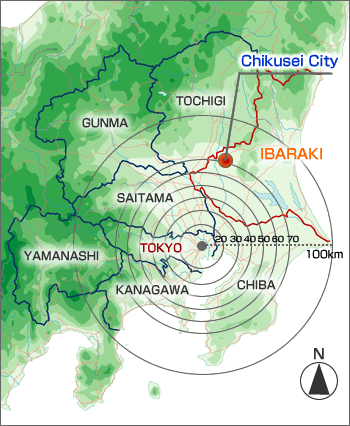 The city of Chikusei, founded on March 28, 2005, was formed through the merger of Shimodate City and the towns of Sekijo, Akeno and Kyowa. Located about 70km north of Tokyo in the western part of Ibaraki Prefecture, Chikusei City is about 15km long from west to east and about 20km wide from north to south, covering an area of 205.35km².
 Chikusei's neighbors to the south are Shimotsuma City and Tsukuba City, the renowned science and technology center of Japan. To the east is Sakuragawa City. To the west are Yuki City, Yachiyo-machi and Oyama City, Tochigi Prefecture and to the north is Haga-gun, Ninomiya-machi, Tochigi Prefecture.
 The land around Chikusei is more or less flat and forms a fertile agricultural area with the Kinu and Kokai rivers running from south to north through the city.
 The altitude ranges from 20m to 60m. In the northern part of the city, there is a hilly zone about 200m high connecting to part of the Abukuma Mountain Range.
 The climate is mild and calm throughout the year, typical of Pacific Ocean type climate.
 National Highway Routes 50 and 294 run east to west and south to north, respectively, going through mainly the center of Chikusei. Prefectural highways spread out radially from the city center in the direction of Ishioka, Tsukuba and Koga.
 Three railways operate in Chikusei City. The JR Mito line runs east to west of the city. From Shimodate Station, the Moka line of the Moka Railway runs north to Motegi, and the Kanto Railway Joso Line runs south as far as Toride.
 "A city of symbiotic culture where humans can live comfortably in harmony with nature" was set as the future vision for Chikusei. Furthermore, efforts are being made to create an urban area that serves as a new center for collaboration in the northern Kanto area, and initiatives are being taken in areas such as industry, tourism, recreation, and culture that go beyond prefectural boundaries.